Noise Vibration & Harshness (NVH):
One of our main areas of specialism is the analysis, development and optimisation of Noise Vibration and Harshness using FEA tools. We have supported a number of major automotive vehicle manufacturers with CAE support from concept through to detailed design.
We can cover all aspects of NVH analysis from basic modal assessment in support of modal alignment, development of attachment point stiffness through to detailed vibro acoustic analysis to quantify and reduce structure borne noise.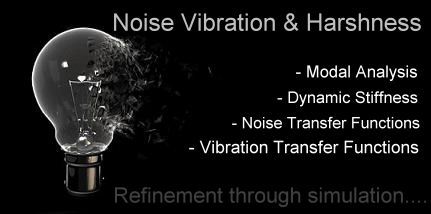 We are able to assess and develop dynamics stiffness of structural attachment points against supplied targets which are general derived from typical requirements of 5-10 times bush stiffness. By ensuring such levels of stiffness differential between bush and mounting point are achieved, elastomeric isolation efficiency is maximised and hence transmitted forces are minimised, giving rise to reduced interior noise and vibration.

Vibration Transfer Functions can be predicted at passenger interface points such as steering wheel, hand rails, seat etc. to improve passenger comfort. Using coupled vibro acoustic modelling methods, Noise Transfer Functions can also be calculated from any structural input point to any number of response points in the vehicles cabin (relating to occupant ear positions). Inputs causing noise can be from a variety of sources including suspension inputs (road noise), powertrain inputs or other reciprocating sources such as pumps and motors. Customer perceived issues can be limited, by firstly actively reducing identified acoustic sensitivities, and where possible reductions are limited, by secondly minimising forces likely to excite a response at known frequencies.

Our work often requires us to assist in target setting and sub-system target validation using finite element models. Projects have also included determining causes of error states on production vehicles in order to implement cost effective palliatives - reduced reliance on physical testing also reduces costs.

Whether your project is at the concept phase or your product needs further refining, our tools and experience are perfectly suited to avoiding issues in the first instance or reducing their effects to acceptable levels. Applicability of the methods and tools is wide spread - we can assist characterising and improving noise, vibration and harshness in most vehicular and structure market segments; to name but a few:
Small Passenger Vehicles - Cars
Large Passenger Vehicles - Buses & Coaches
Rail - Carriage
Commercial & Agricultural - Tractor, Truck & Van
Industrial & Construction
Marine
Civil Engineering - Structures subjected to Dynamic Loading